In January, Governor Inslee declared a state of emergency related to a measles outbreak. As of July 10, there have been 84 cases in Washington state: 71 in Clark County, 10 in King County, two in Pierce County, and one in Snohomish County in 2019. Read more about King County exposure locations on Public Health — Seattle & King County's website.
If you have not received a measles vaccination – one component of the measles, mumps, and rubella (MMR) vaccine – get both doses of the MMR vaccine as soon as possible.
Measles is extremely contagious, even before symptoms appear. The measles virus can live for up to two hours in an airspace where an infected person coughed or sneezed; therefore, a person can contract the disease just by being in a room within two hours of an infected individual.
Most people in King County have immunity to measles through vaccination, so the risk to the general public is low. Public health officials consider those born before 1957 to be protected from measles and therefore do not need the vaccination. The University of Washington's student measles immunization/immunity requirement increases the campus' overall protection.
Symptoms of measles include a high fever, a cough, a runny nose and red, watery eyes. Two or three days after initial symptoms begin, white spots may appear inside the mouth. Three to five days after initial symptoms, a rash breaks out, starting with the face, and spreading to the neck, trunk, arms, legs and feet.
Measles symptoms begin seven to 21 days after exposure. Measles is contagious from approximately four days before the rash appears through four days after the rash appears. People can spread measles before they have the characteristic measles rash.
If you or anyone in your household has these symptoms, call a health care provider immediately. To avoid possibly spreading measles, do not go to a clinic or hospital without calling first. And, do not go to work or school until cleared by a health care provider.
You can find more information about measles and the Washington state outbreak on these public health websites: Centers for Disease Control and Prevention, Washington State Department of Health, and Public Health – Seattle & King County.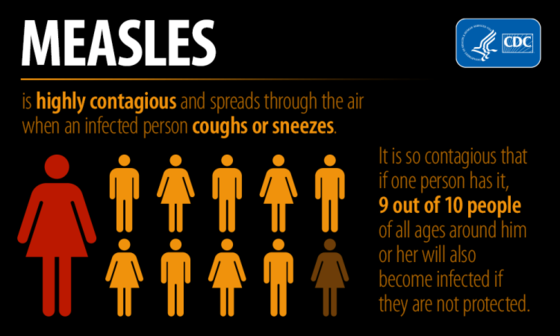 _______________________________________________________________

_______________________________________________________________
Want more environmental health and safety news? Read the latest news and subscribe to the EH&S newsletter.