Gases are classified in different ways according to definitions by different regulations including Department of Transportation (DOT) and Fire Code regulations as well as by classification systems such as the Globally Harmonized System of Classification and Labelling of Chemicals (GHS). These classifications are different and overlap in some ways. Users should be aware of all the hazards associated with the gases they are using. The links below are to the Fire Code definitions for compressed gases Web page and GHS and DOT definitions with pictograms to help identify how chemicals are classified.
Cylinder Engravings
Cylinder manufacturers include engraved markings on cylinders to allow proper identification of substances in the container. Do not attempt to identify the compressed gas in the cylinder on your own. Be sure to contact the manufacturer if you are unsure of cylinder contents.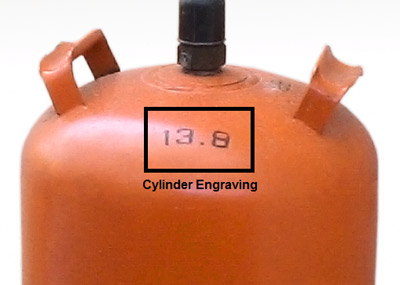 All cylinders should bear a cylinder status tag stating one of the three conditions: full, in-service or empty.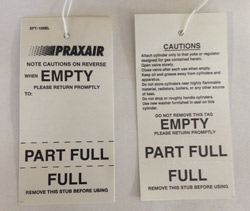 To dispose of your compressed gas cylinders, ask yourself these questions:
Do you own the cylinder or rent it?
For example, when you procure a gas cylinder from Praxair, you buy the gas but rent the cylinder (pay demurrage). When you are done with the cylinder, you contact the company listed on the cylinder and they will pick it up. If you own the cylinder, skip to the next question.
Is the cylinder empty?
If the cylinder is empty, depending upon original contents, the valve can be removed and the cylinder disposed of as scrap metal.
To recycle empty, vented, and de-valved cylinders as scrap metal, remove or deface all labels, write "empty" on it, and contact UW Recycling to arrange a pickup.
If the cylinder is not empty, but only contains common atmospheric gases such as nitrogen, it may be safely vented and emptied, de-valved and disposed of as scrap metal. 
Contact the Environmental Programs office at 206.616.5835 for guidance on removing the valve on your particular cylinder. If you are not able or willing to de-valve your cylinder, we can do it for you. There may be a small disposal fee charged for each cylinder. Please provide a budget number with your request.
All other non-rented, non-empty cylinders can be disposed of by submitting an online chemical collection request form.
If you experience a compressed gas leak:
Cylinders stored and used on campus must be clearly labeled. According to United States Department of Transportation (DOT) and Occupational Safety and Health Administration (OSHA) regulations, the labeling must list contents, concentrations, hazard classifications, safety precautions and the manufacturer or supplier. Do not remove manufacturer applied labels. Be sure to contact the manufacturer if you are unsure of a cylinder's contents.
Praxair, Inc. was selected for a University contract to provide compressed and liquid (cryogenic) gases after an open competitive solicitation process, and in consultation with several University departments.
Special Fire Department permits and engineering controls such as a gas storage cabinet may be required to use toxic or corrosive gases. Prior to ordering these gases, you are encouraged to contact EH&S at 206.543.7262 for an assessment and to ensure proper safeguards are met. Extra precautions must also be documented in your standard operating procedures (SOPs) for these chemicals.
Toxic and Highly Toxic Gases
ALL toxic and highly toxic gases are purchased through Praxair, unless unavailable.
Ordering information is provided on the UW eProcurement Web page.
Pressure regulators lower the gas pressure to a useable level. There are two kinds of pressure regulator designs, which appear similar: single-stage and two-stage.
Single-stage regulators are used when precise control of delivery pressure is not required.
Two-stage regulators give precise control.
Keep regulators clean and free of surface oil and grease, especially oxidizing gases.
Always use the proper regulator for the gas in the cylinder. Connection fittings, stamped Compressed Gas Association (CGA) numbers, plaques and/or decals on the regulator indicate for which gas the regulator is designed.
Do not use Teflon® tape, putty or other such materials on the threads unless specifically required (or applied) by the manufacturer or vendor.
The fire code requires rooms or cabinets containing compressed gases to be conspicuously labeled "COMPRESSED GAS." The caution sign generated though the MyChem system can be used to meet these requirements.
Gas cylinders and Dewars are particularly vulnerable to damage during transport. Refer to the Gas and Cryogen Transport Focus Sheet for best practices for transporting these materials safely.