Sharps Waste
Identify sharps waste
Sharps waste is regulated by state law and must be separated from the regular waste stream. The term "sharps" refers to items used to puncture or cut body parts. In a waste container, sharps can cause punctures, cuts and potential exposure to waste handlers. Therefore, all sharps waste must be placed in sharps containers and decontaminated prior to disposal.
The following are always sharps waste:
Needles, syringes with needles and IV tubing with needles attached
Lancets
Scalpel blades
The following are defined as sharps waste if they are contaminated with a biohazard (including recombinant or synthetic DNA/RNA):​
Broken glass
Razor blades
Fragile glass items like tubes, vials, ampoules and Pasteur pipettes
Glass slides and cover slips
Use the Packaging Sharps and Lab Glass Waste poster to help identify your waste.
Package sharps waste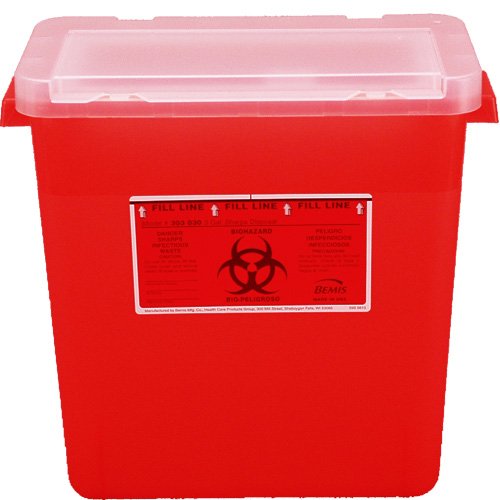 Place sharps waste in red plastic sharps containers labeled with the biohazard symbol. Choose a container size that fits your work space; do not use a container that is too large. When the container is no more than two-thirds full, close the lid and place autoclave tape over the lid and sides without blocking the vent holes. Label with Principal Investigator (PI) name and room number.
Sharps containers are available for purchase from Biochemistry Stores or from lab/medical vendors through UW Procurement Services.
Decontaminate sharps waste
Sharps containers must be decontaminated prior to disposal regardless of whether the items inside are contaminated with biohazards. If a sharps container is punctured or has needles sticking out, place the entire container inside a larger sharps container; do not attempt to empty.
Refer to the information on the Biohazardous Waste page for decontamination of biohazardous waste. EH&S does not collect sharps containers. Check with your department to see if a sharps disposal waste stream already exists.
Trace chemo sharps waste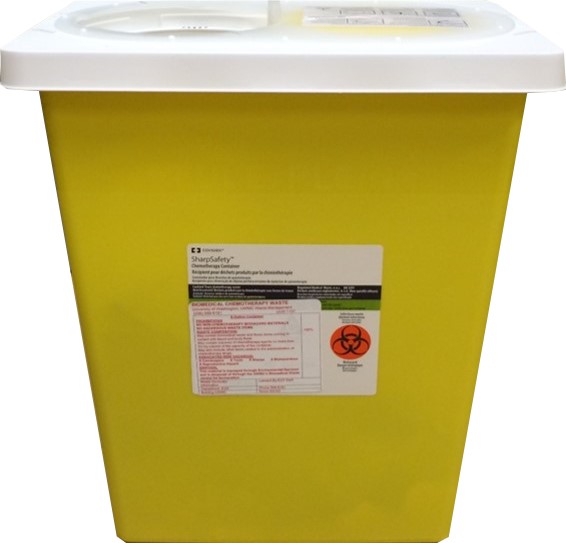 Place sharps contaminated with chemotherapy (chemo) or hazardous drugs in a yellow sharps container with a biohazard symbol. Do not autoclave yellow trace chemo sharps containers. Follow the instructions for packaging and disposal on the Chemotherapy and Hazardous Drugs page. Use the Sharps Waste poster for help.