Environmental Programs collects and disposes of hazardous waste from more than 3,000 laboratory spaces. To request a free* hazardous waste collection, use the online Chemical Waste Collection Request form.
You can quickly submit a request using the online form on our website or by selecting chemicals for disposal in MyChem. Follow the instructions on the waste pickup request page and easily submit your request.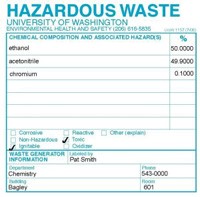 For assistance or questions with completing the request, please call 206.616.5835.
*Some restrictions apply. See EH&S's Hazardous Waste page for details.