Frequently asked questions
You are required to wear a face covering while indoors in common areas and where other people are present; outdoors where you cannot maintain a 6-foot distance from other people. This includes hallways, stairwells, elevators, restrooms, building lobbies and shared cubicle work areas.
A face covering includes any cloth face covering that: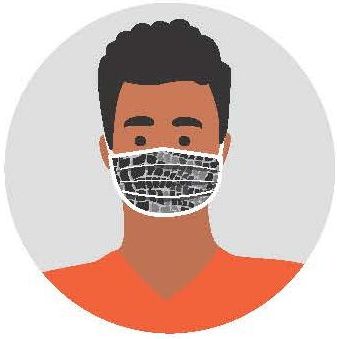 Fits snugly against the sides of the face
Completely covers the nose and mouth
Can be secured with ties, ear loops, elastic bands or other equally effective method
Has at least two layers of cloth
Allows for breathing without restriction
Is capable of being laundered and machine dried without damage or change to shape
Is free of holes, tears or valves that have the potential to release respiratory droplets
Masks with at least two layers of fabric are most likely to reduce the spread of COVID-19.
Review the Centers for Disease Control and Prevention's website for more information:
The following types of face coverings do not adequately contain the respiratory droplets of the wearer:
Face coverings made of mesh fabric
Face coverings with holes, tears or openings that could release respiratory droplets
Respirators with exhalation valves or vented dust masks
Face shields (when not combined with a face covering)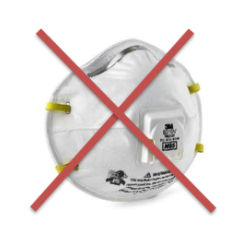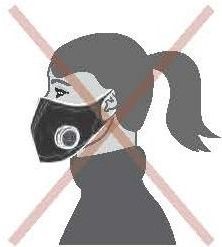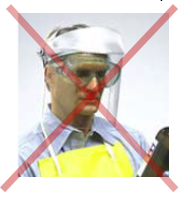 Face coverings will be provided to students and UW personnel working on site at a University location.
Cloth face coverings do not replace required job-specific personal protective equipment (PPE), such as medical/procedure masks, face shields or respirators. Cloth face coverings are not appropriate when working in close contact with others, when a risk assessment indicates PPE is required to perform a job role or activity, and/or when working with or around hazardous materials (e.g., hazardous chemicals, biohazards). 
UW Medicine medical center employees should follow the UW Medicine Mask Policy.
A new, more contagious variant of the virus that causes COVID-19 has been detected in King, Pierce, and Snohomish counties and now also at the University of Washington, so wearing facemasks and physical distancing are more important than ever to help control the spread.
Wearing a face covering with at least two layers of tightly-woven material can block up to 80% of exhaled respiratory particles if worn snugly against the face while fully covering both your nose and mouth. Adding a second (i.e., double) facemask may provide additional filtration, but is not necessary, and should be avoided if it does not allow the wearer to breathe easily.
Your face covering should be snug fitting and without gaps – if your glasses are fogging up, you need a better fit. Wearing two masks, with the tighter-fitting mask on top, is a way to add layers and help create a snug fit.
Wearing a multiple-layer face covering, even when worn correctly, does not provide complete protection. Wearing a face covering is one important element to protect yourself and others, along with these other COVID-19 prevention measures:
Staying at least 6-feet away from people who do not live with you
Avoiding crowds and poorly ventilated spaces
Washing your hands often
Staying home and away from others if you are ill or experiencing COVID-19 symptoms
 Signing up for Husky Coronavirus Testing
Getting vaccinated when you are eligible
Visit the Centers for Disease Control and Prevention website for more information about how to select and wear face coverings and the effectiveness of face coverings,
Read the Public Health- Seattle & King County blog about The New Variant.
Face coverings are not required when:
Working or spending time alone in a personal office or workspace with the door closed
Working or spending time outdoors (e.g., walking, exercising) and at least a six-foot distance can be maintained
Operating a single occupancy vehicle
Teleworking (i.e., not reporting on site to a University work location)
Inside a private on-campus residential unit
Eating or drinking; a six-foot physical distance between people is required when eating and drinking and during breaks
Yes. A face covering is required when working in a cubicle. Cubicle workstations, even with dividers between them, are not considered equivalent to private offices as other people may be in the same work space and air in the work environment can migrate throughout the space. When working in a cubicle, you must maintain distancing of at least 6 feet from other people and a face covering is required.
UW employees should talk with their supervisor; requests for accommodation by UW personnel can be submitted through the UWHR Disability Services Office.
Requests for accommodation by students can be submitted through Disability Resources for Students.
An accommodation may not include allowing someone to not wear a face covering where it is required.
Personnel: Personnel are expected to comply with the face covering requirement as a condition of employment, as well as for the health and safety of themselves, their colleagues, and the UW community. Units are required to ensure all of their personnel have a thorough understanding of the requirements outlined in this policy. Personnel who do not comply should be reminded of the policy by their supervisor and provided additional education and training as needed. If, after additional education and training, personnel refuse to comply, contact your unit human resources (HR) representative to initiate the appropriate corrective action or standard of conduct process. If unit human resources representatives require assistance, they should contact their HR consultant.
Students: Students are required to follow the face covering requirements at all times when on campus. If a student is without a face covering, in accordance with this policy, begin with a polite verbal request for compliance to educate and persuade the student to wear a face covering. If a student refuses to comply with the policy, the state regulations require the student to be sent home (on or off-campus residence).
Members of the public, customers and visitors on campus: The University of Washington is committed to maintaining a respectful, productive, inclusive, and equitable workplace, and discrimination and other conduct that is inconsistent with our values will not be tolerated. Consistent with Washington state's public health order for face coverings, members of the public, customers and visitors to the University are required to wear face coverings when entering a University facility and receiving service. Following a polite verbal request for compliance with the face covering policy, if the individual continues to decline to wear a facemask or face covering, personnel should notify the site manager to assist the customer with determining if accommodations, such as curbside pickup, can be made. If the individual refuses to wear a face covering and does not indicate a medical condition or disability that prevents them from wearing a face covering, they should be politely informed that they are not permitted to enter and be asked to leave.
Unless personnel have specific, job-required PPE, units must distribute two cloth face coverings to personnel who are required to come to campus for work-related use. Personnel are responsible for laundering their University-issued reusable cloth face coverings and remembering to bring them to work. Personnel may also use a personally purchased alternative face covering as appropriate.
Units can order face coverings from the Creative Communications Safe and Clean storefront. Information about accessing the storefront is available from UW Procurement.   
UW units are required to provide training to personnel on the use, care, maintenance and disposal of facemasks and face coverings. Written instructions, visual aids and links to videos are available in the Guidance for Facemask Use that supervisors may use for this purpose.
Yes. Consistent with Washington state's public health order for face coverings, members of the public, customers and visitors to the University are required to wear face coverings when entering a University facility and receiving service. Details about accommodations for individuals with a medical condition and enforcement of this policy are available in the UW COVID-19 Face Covering Policy.
The UW COVID-19 Face Covering Policy is consistent with Governor Inslee's Statewide face covering order directs businesses to require and enforce the use of face coverings by all customers and clients.
UW units can order supplies, including face coverings, from the Creative Communications Safe and Clean storefront. Access is limited to those who have been delegated access by their unit leader. Information about accessing the storefront is available from UW Procurement.   
If you work in a face-to-face service capacity, you can wear a face covering with clear panels to allow people who are deaf and hard of hearing to read your lips.
UW units can order face coverings with clear panels from the UW Creative Communications Safe and Clean storefront. Information about accessing the storefront is available from UW Procurement.          
No. According to Public Health – Seattle & King County face shields are not an approved substitute for face coverings because they do not contain the respiratory secretions of the wearer. Droplets released when the wearer coughs, sneezes or speaks can be dispersed through the sides and bottom of the shield. Shields are useful for protecting the wearer from splash, spray or splatter of liquids.
Yes. Wearing a face covering does not replace the need to take all necessary precautions to prevent the spread of COVID-19, including maintaining a 6-foot distance from other people, practicing good hygiene and staying home when sick or symptomatic.
Masks are essential for preventing the spread of COVID-19; however, wearing a mask for long periods of time can cause skin problems including acne (also known as "maskne"), rashes and itchiness.
Cleanse your face before and after wearing a mask. 
If you have dry skin, apply moisturizer to your skin before putting on a mask.
Apply a ceramide-containing facial lotion or petroleum jelly as a barrier to help prevent skin irritation in areas where the mask rubs against your skin.  
Avoid wearing a liquid foundation or any makeup that can clog your pores, which may cause your skin to break out. Foundation, aftershave, sunscreen and similar products can also rub off on your mask, leading to decreased air filtration, making it harder to breathe.   
Wash cloth masks daily. Replace disposable masks after each use, and when they become contaminated or wet.
Consider wearing a different type of mask if you are uncomfortable with your current mask.


Avoid synthetic fabrics, such as nylon or polyester, on the inside layer that rests against your face, as these fabrics are more likely to irritate your skin.
Cloth masks should have an inner layer made from an absorbent material (e.g., cotton) to help absorb sweat that can lead to breakouts.




Facemask bracket. Image source: Cleveland Clinic




If you are considering using a facemask bracket to prevent acne, be aware that it could lead to gaps between the mask and your face that may cause your mask to be less effective. If you decide to use a bracket under your mask, ensure the mask fits snugly against your face.
Read the American Academy of Dermatology Association article "9 Ways to Prevent Face Mask Skin Problems" for more information.
If you continue to have skin problems that go unresolved after following these recommendations, speak with your health care provider and/or a dermatologist.