Worker Memorial Day at the University of Washington
#SafeJobsSaveLives
The University of Washington Department of Environmental and Occupational Health Sciences (UW DEOHS) annual Worker Memorial Day event is a special ceremony that raises awareness about how we can strengthen our commitment to make jobs safer and save lives in Washington state. 
WORKER MEMORIAL DAY CEREMONY 2021 
April 27, 2021, 11:30am-1:00pm PT via Zoom or Facebook Live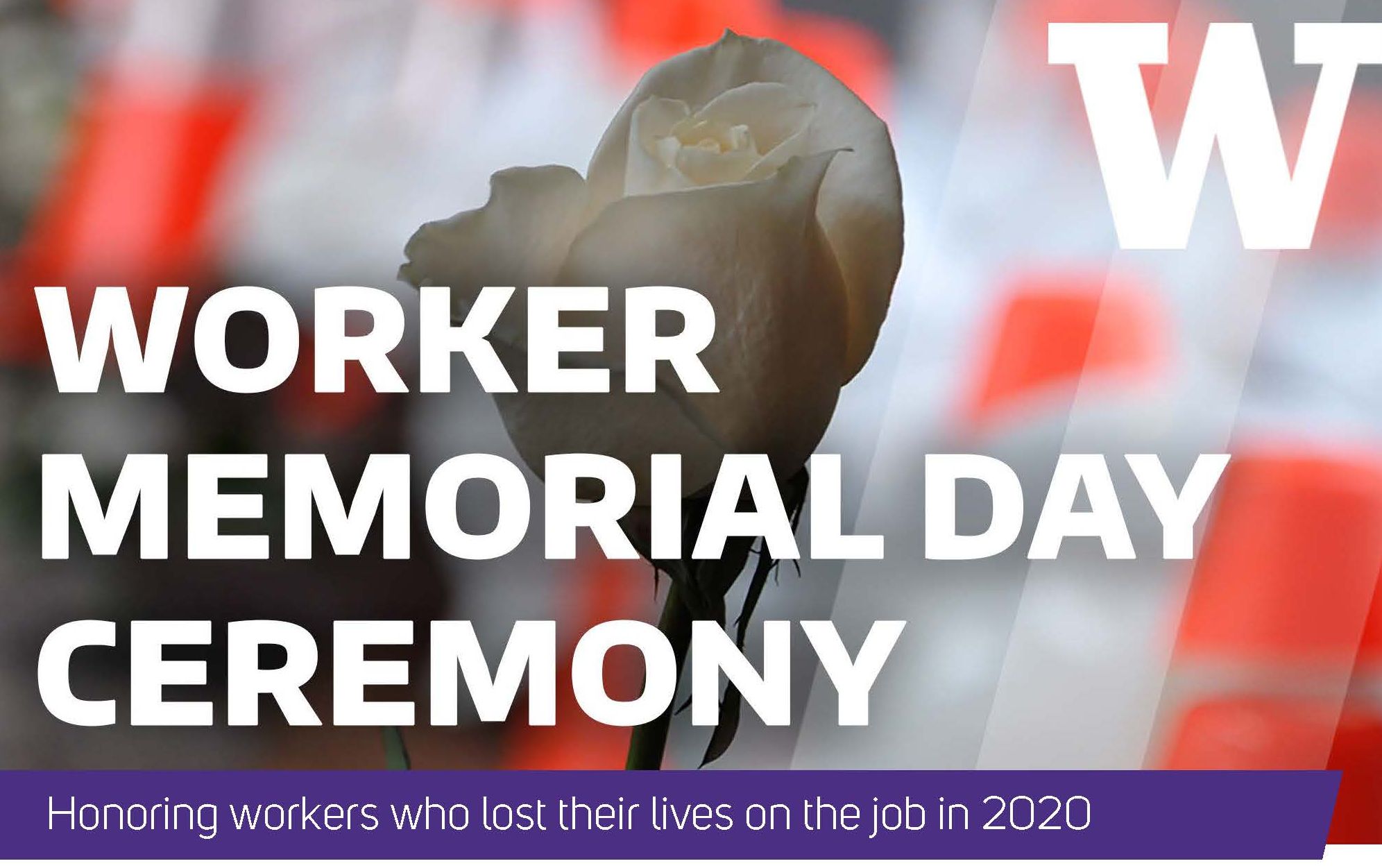 In light of the current COVID-19 crisis, we are exercising continued caution by hosting a virtual Worker Memorial Day Event. Be sure to like UW DEOHS and the UW DEOHS Continuing Education Programs on facebook for updates on the facebook live stream.
Keynote Address: Healing in Crisis: Honesty, Solidarity, and Transformational Change - April Sims, Secretary Treasurer, Washington State Labor Council, AFL-CIO
CLICK HERE TO REGISTER FOR THE COMPLIMENTARY, LIVE ZOOM CEREMONY
This year's ceremony will honor workers in King County, WA, who lost their lives on the job in 2020. Following a year of the COVID-19 pandemic, and rekindled movements for racial justice, we will highlight how we can confront inequality through solidarity and transformational change in the workplace and beyond.
View/Download the 2021 Ceremony Flyer
2021 CEREMONY AGENDA
Theme: Healing in Crisis: Honesty, Solidarity, and Transformational Change
11:30am Welcome, Hilary Godwin, Dean, University of Washington (UW), School of Public Health (SPH)
Masters of Ceremony:
Amanda Clouser, Postdoctoral Scholar, Department of Medicinal Chemistry, School of Pharmacy
Madeline Benoit, Occupational Health Trainee in One Health, Northwest Center for Occupational Health and Safety, UW Department of Environmental & Occupational Health Sciences (DEOHS), SPH
11:40am  Introduction to Keynote- Kim England, Harry Bridges Endowed Chair in Labor Studies; Director, Harry Bridges Center for Labor Studies; Professor, Department of Geography; Adjunct Professor of Gender, Women, and Sexuality Studies, UW
11:45am Keynote: 'Healing in Crisis: Honesty, Solidarity, and Transformational Change' - April Sims, Secretary Treasurer, Washington State Labor Council, AFL-CIO
12:00pm Memorial Recognition- Our Fallen Workers 2020- Mike Yost, Professor and Chair UW DEOHS; Director, Pacific Northwest Agricultural Safety and Health Center (PNASH)
Moment of silence with UW DEOHS Continuing Education memorial video
Chris Simpson, Assistant Chair for Research and Faculty Engagement, Director, Northwest Center for Occupational Health & Safety, Professor, Exposure Science, UW DEOHS
Butch de Castro, Occupational Health Nursing Program Director, Northwest Center for Occupational Health & Safety; Professor and Associate Dean for Diversity, Equity & Inclusion, UW School of Nursing; Adjunct Professor, UW DEOHS
Senator Karen Keiser, 33rd District of Washington 
Jane Hopkins, Executive Vice President, SEIU Healthcare 1199NW  and Member of the President Biden and Vice President Harris National COVID-19 Advisory Board
Cherika Carter, President, Puget Sound Coalition of Black Trade Unionists (CBTU) and Political and Strategic Campaigns Director, Washington State Labor Council, AFL-CIO
Amy Leong, Staff Organizer, Asian Pacific American Labor Alliance (APALA)
David West, Labor and Employment Policy, Washington State Labor Education and Research Center (LERC), South Seattle College
12:50pm Closing, Yasmin Ahmed, Assistant Director of Student and Community Engagement, UW Harry Bridges Center for Labor Studies
12:55pm Closing Video - 'Love and Solidarity' - Michael Honey
RESOURCES:
Visit the AFL-CIO Worker Memorial Day Website
Retail Worker Hazard Alert - Women Victims of Homicide (Jan 2021) - Washington State Fatalities Assessment & Control Evaluation (FACE) Program - Washington State Labor & Industries