University units that ship dangerous goods by air should review the regulation changes enacted by the International Air Transport Association (IATA) on January 1, 2021. Dangerous good impacted by the regulation changes include hazardous chemicals, infectious substances, dry ice and devices containing lithium batteries.
Most of the changes are minor and don't apply in most circumstances. The only global regulation change that applies to all shipments is the UN number size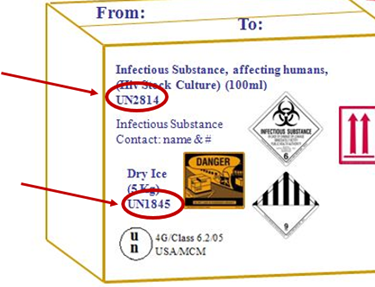 requirement. 
For packages under 30 kg (or liters), the size of the UN numbers must be 1/4 inch in height.​
For packages equal to or greater than 30 kg (or liters), the size of the UN numbers must be 1/2 inch in height.
View the Lithium Battery Guidance Document (PDF) on the IATA Lithium Batteries webpage to review the 2021 regulation changes for shipments containing lithium batteries.
The 2021 IATA regulation changes are covered in the Shipping Hazardous Materials safety training course. The next course will be offered on February 17, 2021. Register on the EH&S website.
University personnel who ship dangerous goods (i.e., hazardous materials) are required to complete one of our various online courses or attend or our classroom (via Zoom) Shipping Hazardous Materials course prior to shipping any dangerous goods in commerce.
The full list of the most recent changes to the regulations for shipping dangerous goods by air can be found on the IATA website.
If you have any questions about any of these changes, please email hazmat@uw.edu