A UW employee's feet became entangled with cords under a desk, causing them to lose their balance and fall, resulting in a bone fracture. This event triggered a response from the UW's accident and injury network to prevent future incidents like this one.
How are accidents and injuries prevented at the UW?
Every employee is served by one of 10 health and safety committees, which meet on a monthly basis to review incident reports and discuss health and safety topics in an effort to prevent accidents and injuries on campus.
The main responsibilities of the health and safety committees are to:
Review Accident Prevention Plans to ensure compliance with regulations
Discuss potentially unsafe conditions reported via the Report a Concern form
Review details of reported incidents involving injured employees and ensure corrective action is taken to prevent future injuries
A challenge faced by health and safety committees
When reviewing incident reports sometimes there is not enough detail about the event to pinpoint the action needed to prevent a recurrence. Although the injured employee may fulfill their obligation of submitting a report within 24 hours of an incident, their supervisor may delay in completing the form. Or, the report may not contain sufficient information identify a root cause, which impedes the committee's ability to effectively determine if additional recommendations should be considered by the supervisor.
Angelina (Angie) Haggard, EH&S's accident reporting system administrator, works closely with each health and safety committee to address missing details that can delay preventive action. She conducts thorough follow-up to ensure that each committee gets the complete information needed to recommend effective solutions. She shares best practices, provides transparency and sets expectations for committees in the resolution of safety concerns.
According to Paul Zuchowski, chair of Health and Safety Committee Group 3, Angie's collaboration is invaluable to the committee's work. "Angie sees a holistic view of post-incident follow-up. Every incident is unique, and we use Angie as a resource to guide us." Group 3 recently honored Angie with a Gold Star Award to recognize her efforts.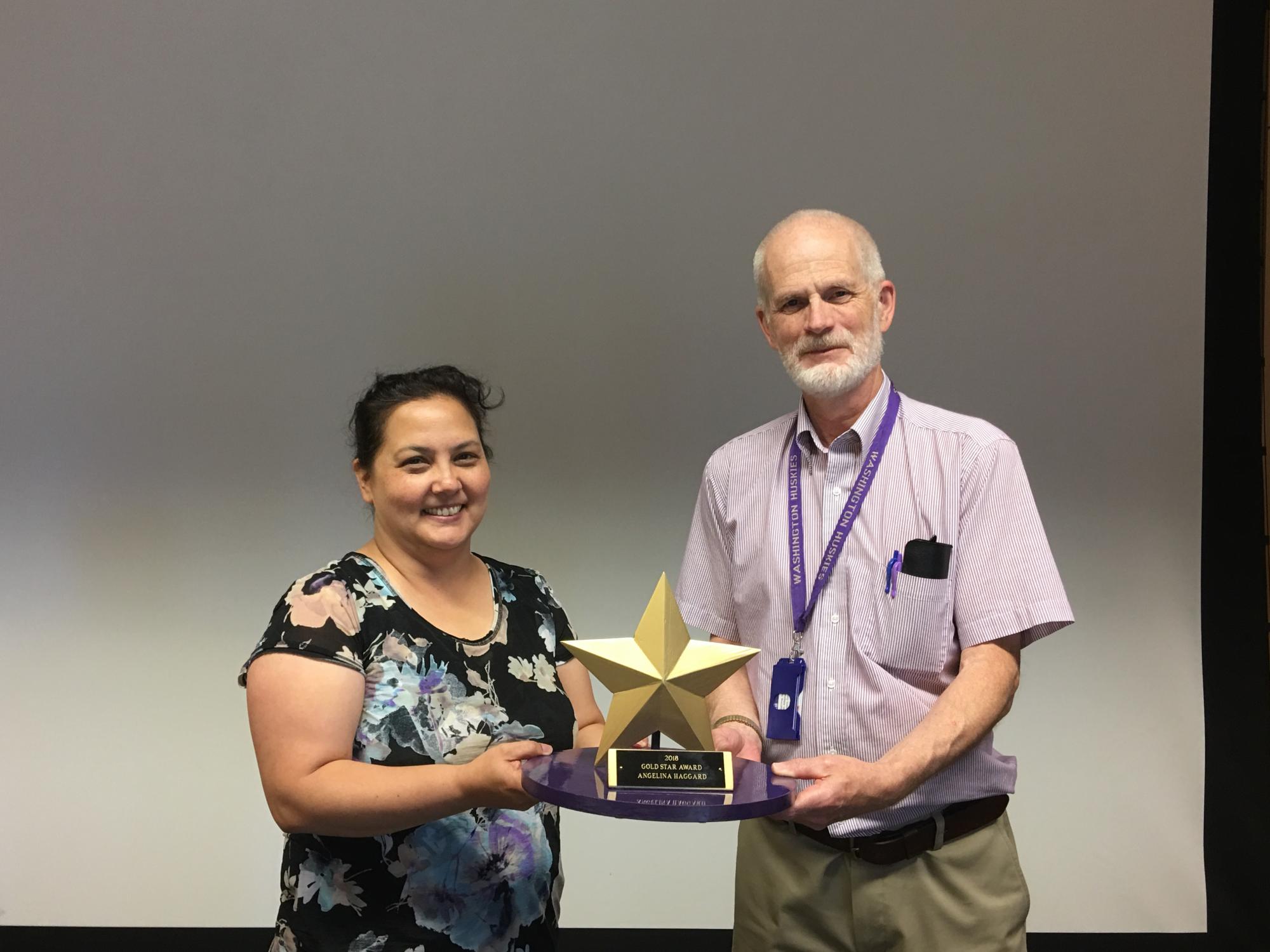 Angie's dedication to accident and injury prevention shows in the exhaustive research she conducts for every incident report submitted by UW employees in the Online Accident Reporting System. In 2017, there were 1,161 incident reports that Angie carefully reviewed, followed up and directed to the appropriate committees.
Given the volume of incident reports, the assistance she provides to the committees is essential. "But I never review injury reports while I'm eating lunch," Angie says, noting that graphic descriptions of injuries make her lose her appetite. "Did you know that in 2017, nine out of the 12 fractures sustained by UW employees occurred while they were in their office?"
What actions have been taken to prevent future slips, trips and falls in offices and other areas on campus? Health and safety committees have recommended better cord management and adherence to the extension cord policy, among other recommendations.
For more information, please visit the Health and Safety Committees page and the Accident and Injury Prevention page on the EH&S website.