Please keep in mind storage requirements and labeling options for your hazardous chemical waste. 
Store waste at or near the generation point: Regulations require all hazardous waste be stored "at or near" its point of generation. In most circumstances, if you have to leave the room or go through a door to get to the storage location (prior to pickup by EH&S), then it is not at or near the point of generation. 
Read the Hazardous Waste Accumulation Rules in Section 3 of the UW Laboratory Safety Manual for additional details. If you have any questions about whether or not your waste storage location is compliant, please email chmwaste@uw.edu and we will help you store your waste compliantly. 
Free, printed chemical waste labels now available: EH&S has printed hazardous chemical waste labels that are compliant with current regulations (EPA/WDOE G.I.R.) and can be used for any size of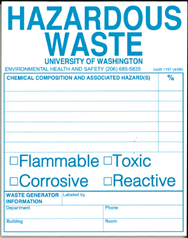 container, including containers with volumes greater than 4 liters. Email chmwaste@uw.edu with your box number (or your normal mailing address if you don't have a UW mailbox) and we will send you a few pads through the campus mail at no cost. 
View the How to Label Chemical Waste Containers (PDF) guide on the Chemical Waste Disposal webpage for more information.