Slips, trips, and falls are the second leading cause of injuries to UW employees, and there was an increase in reported incidents from 2016 to 2017. The University of Washington is committed to protecting employees and others from these hazards.
When you are working above 10 feet, using ladders, or walking on a loading dock, be sure to follow the required procedures and safety tips to stay safe.
Fall Protection Work Plan
When working at heights greater than 10 feet, the UW requires a Fall Protection Work Plan.
A competent person should complete and review the work plan. Upon completion, the work plan should be reviewed and approved by the supervisor prior to the start of the work.
Any affected person shall review and sign the work plan prior to entry. See the EH&S website for more on fall protection.
Ladders
Falls from ladders are one of the leading causes of occupational injuries. If feasible, one should consider use of other equipment, such as mobile scaffolding or mobile elevated lift platforms. If a job requires the use of a portable ladder, inspect it thoroughly and use it properly.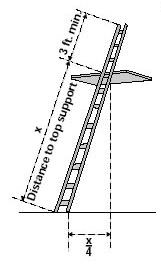 Follow these tips for ladder inspection and use:
Do not step on the top step or cap of a stepladder.
Do not step on the top four rungs of a straight or extension ladder.
Position straight and extension ladders so that the top of the ladder extends at least 3 feet beyond the desired landing or working surface to provide a hand hold for getting on and off the ladder.
Secure the ladder at the top of the landing or working surface. If securing the ladder with a tie off is not possible, a second employee supporting the ladder's legs and feet is acceptable.
Place straight and extension ladders against the wall at an angle so that the base of the ladder is one foot away from the wall for every four feet of ladder height.
Wear shoes with non-slip soles, free of mud, oil, or grease.
On loose soil or soft ground, dig ladder feet into the ground.
On a firm base, set ladder feet level and on rubber pads.
Loading Docks
Loading docks pose a unique risk as a walking and working surface. Familiarize yourself with activities specific to the loading dock you are on. Be aware of moving vehicles, maintenance work for dock-specific hazards, and people coming and going nearby buildings. Such activity could pose risk.
Follow these tips to avoid slips, trips and falls:
Maintain a safe distance from the edge of a loading dock.
Keep walking and working surfaces clear and clean.
Notice painted edges on loading docks that you should be aware of.
Ensure pedestrians are aware of machines and trucks in use.
Those around the loading dock should be aware of the specific hazards present in and around the dock.
For more information, please contact EH&S's Occupational Safety & Health team at 206.543.7388.