Climbing Technology issued a Request for Inspection of the ROLLNLOCK pulley/rope clamp due to a defect in the functioning of the sheave position lever (part F in the image below), which can lead to an accidental locking of the lever. As a result of this defect, when using the device in "hauling pulley" mode, the lever may inadvertently engage the pin, suddenly disabling the locking function and releasing the load or person. Products with batch numbers 0120, 0220, 0320, 0121 and 0221 are affected.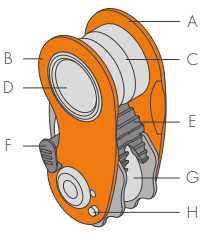 University units in possession of ROLLNLOCK pulley/rope clamps should check the batch number on the product to confirm whether it is a defective product.
If you are in possession of a defective product, immediately remove it from service and contact Climbing Technology at commerciale@aludesign.it or vendite@aludesign.it for a replacement.